We spraken With Confidence over touren, Grammy's, de poppunk community en meer
De Australische poppunkband With Confidence sloot enkele weken geleden hun eerste Europese headline tour af in een uitverkochte Dynamo basement. Wij spraken de band voor het optreden over hun inspiratiebronnen en alles wat ze tot dit punt heeft gebracht. Daarnaast vertelden Josh, Inigo, Jayden en Luke ons over hun nieuwe EDM album (eh?) en hun toekomstdromen. Welkom in de wereld van With Confidence.
---
Were you raised in a musical environment?
Josh: "For me it was the opposite. There were no records in the house, my parents never bought CDs, so I kind of found music on the radio at some point. I really only got into music after school, so I was pretty late with that."
Luke: "My parents probably listened to music more than the average listener, but it wasn't a crazy musical environment or anything. I just took a natural interest in it at a very young age, like six or something. My parents noticed and bought me a guitar, and the rest is history."
Who were your favourite artists growing up?
Luke: "That's a really easy one for me. As to what sparked my musical interest, that was probably Blink-182 and all of that '90s pop punk music. From that I found Sum 41, Green Day, and then progressed into a deep, dark hole of pop punk."
Josh: "Yeah, same for me. It's the first stuff I liked to play on drums and it's the first CDs I went out and bought. I was probably like twelve years old."
Ini: "I was brought up on rock 'n roll and grunge. I had never really heard pop punk apart from maybe Blink, and then when I went to college these guys introduced me to You Me At Six, The Wonder Years, The Story So Far and stuff. It was such a shock to me, because I was so set on listening to bands like Red Hot Chili Peppers and Led Zeppelin…"
At what point did you start making music yourselves?
Ini: "I was in a shitty high school band and we played something we called 'acid funk rock'. Looking back, it's the weirdest thing I've ever listened to, but I thought it was cool back in the day. Then in college, I met Josh and Jayden -"
Jayden: "Yeah, me and Josh started the band."
Josh: "I'm sure it started on a drunk New Year's night and we were just like 'hey, we all play music, why don't we play together?'. It's like one of those things where you run into someone and you go 'hey, we should totally get coffee some time', not thinking it'll actually happen, but we actually did it. We just jammed for ages and at some point we started writing. That's when we came across Ini and then after a while [former guitarist] Sam decided he didn't want to do it anymore. We picked up Luke for a tour and we loved him, so we kept him around… That's pretty much how we got together."
2016 was a big year for you, could you quickly run us through everything that happened?
Jayden: "It was crazy. We announced the signing in January and then basically toured around the world in the months that followed. It was just pretty much 'go, go, go' for the whole year."
Luke: "Um… We also released our first album!"
Josh: "Yeah! And we played arenas with 5 Seconds Of Summer, that was awesome. We've spent about five months overseas. It was a good year."
About that album, what song on Better Weather are you most proud of?
Jayden: "Poison, definitely."
[Iedereen lacht]
Ini: "For reference, that's a B-side track that never made the album. Um.. I'm gonna say 'Keys' is my favourite. It's very personal to me and one of the first songs I got to sing on fully. It's super honest, probably one of the most honest things I've ever written. That's why I cherish it so much."
How would you describe With Confidence to someone who's never heard of you before?
Luke: "Imagine an orgasm, but music. I mean, if that doesn't sell it then I don't think you like music."
[De rest barst in lachen uit]
Josh: "For a long time, I'm pretty sure said our genre was 'baby making music', and then for a while it was 'Arabian folk punk', so we've been through some phases…"
Do you have a certain theme in mind when writing songs?
Jayden: "There's a whole bunch of stuff, actually. We cover a lot of mental illness issues on the album, like the whole idea of 'it's okay to not be okay'. And then some of the more basic, human things like relationships, your relationships with your friends and that sort of thing. I guess just a reflection of the year and the age that we're at."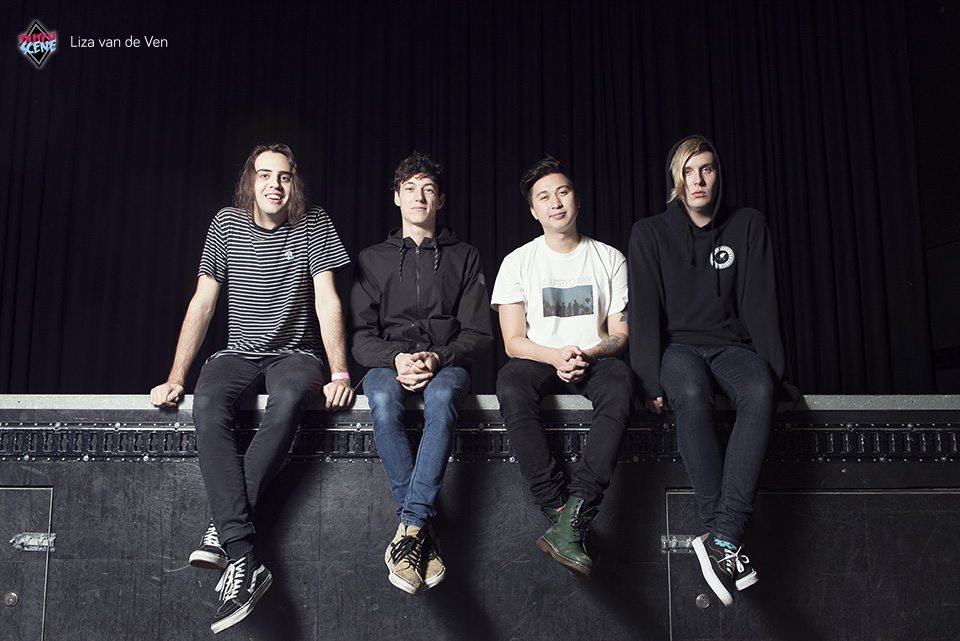 You're playing the final show of your first European headline tour tonight. What's the tour been like?
In koor: "AWESOME!"
Josh: "Selling out London's Underworld was amazing. That venue was super surreal, because it was less than a year ago that we supported As It Is there, and to come back less than a year later and sell out the same venue is just something I don't think anybody saw coming."
"Switzerland was a highlight as well. Driving through there was so good. The traveling has been awesome for us, since we're from a totally different continent where you just can't be in a different country every day. We've seen so much in those two weeks. We've squeezed some sightseeing in between the shows and sound checks, so we only have about two hours every day, but we'll still do what we can and try to wake up early the next day if we can. I think we've done really well, we had two off days and played almost 30 shows, so it's been back to back driving, basically. It's been the best tour of my life."
Ini: "Honestly, getting to see Safe To Say sound check every day was one of my highlights. Having them with us for thirty days has been so good."
Do you ever have people come up to you after a show and tell you your music has helped them through rough times?
Jayden: "That happens all the time, actually. It really puts things in perspective. It's easy to get wrapped up in all this stuff, you know, city to city, show to show – but to hear that our music is actually being listened to and is actually helping people… Every time I hear that from someone, it grounds everything and we remember why we do it.
Did you ever expect to get to this point?
Josh: "We never expected it to go this far. I always thought we had something special and that we could do something good, and of course you always hope that it's going to take you places. But I don't think we actually expected this, you know, headlining on the other side of the world. Our goals were just to play pop punk shows and maybe do an Australian tour, put out an EP… And the good thing about being in a band is that, with every milestone you reach, you're already hungry for the next one. We're all really happy with where we're at right now, but I'm sure that for album two, we want to step it up and do something new."
"That's why we had to get out of Australia, because we've toured our home country 15 times. Getting signed last year was such a big deal for us, because we finally had the contacts and financial backing to do that. We've seen friends' bands who couldn't get out of Australia, and usually those people grow up in the sense that they need to work full time jobs and pay the rent, and that's the end of your band. So for us, this is a big step."
Do you like being part of the current pop punk community?
Luke: "I think yes and no. Because obviously, the pop punk community is very strong and it seems to be full of likeminded individuals trying to do something cool, playing positive music. But at the same time, we don't want to be locked in as a pop punk band, in that niche, our whole careers. We just want to be a fucking great rock band that can transcend any particular niche."
Josh: "Yeah! I don't think we ever tried to write to a particular genre, we just write whatever comes up. If one day, that's not pop punk, then I don't think we'd be scared to try something new."
Jayden: "I wouldn't say the album is 100% pop punk. It's just like Josh said, the songs we wanted to write. They sound pop punk because that's our main influence right now, it's what we're listening to, but I guess we're just gonna write what we write and see how it turns out."
Luke: "We'll always, at the heart of the band, sound like With Confidence. But we're gonna continue to grow and… the sky is the limit, really, in terms of what we can do. The next record is gonna be EDM!"
Speaking of changes, how do you feel about Linkin Park's new sound?
Josh: "Everyone's doing it now, I think. Same goes for that new All Time Low song, it's gone a bit electronic. They're like five albums in, though. I think Linkin Park are, too."
Luke: "I don't know the song in particular, but I think that a band of that age needs to do something different in order to remain relevant. You can't release the same sounding record six times in a row. I think it's just a natural change in bands that have had a career spanning that length of time. It makes sense."
What does 2017 have in store for With Confidence? 
Jayden: "A whole bunch of touring. Again. A few festivals… and writing! For a new album. That's pretty much it!"
And is there anything you didn't get to tick off your bucket list yet?
Josh: "I've seen that The Wonder Years did South America and I think that would be really cool. That's probably pretty far off, but I just want to keep playing shows everywhere we can and keep extending out. It's really cool that we get to play Eindhoven and we've played a few smaller shows outside of the main cities. Like, not Amsterdam, but Eindhoven. I like that, because I know that we will get to play Amsterdam at some point. Probably on a support run with a bigger band. I don't know, I just want to keep playing shows where people want to hear us-"
Luke: "Well, I just want to win a Grammy."
Josh: "There you go, I don't think I can top that. Top of the bucket list, right there."
Ini: "I want a mansion. I want to buy a mansion with our music earnings."
---
Dream big! With Confidence's debuutalbum Better Weather is nu uit via Hopeless Records en is verkrijgbaar via deze link.